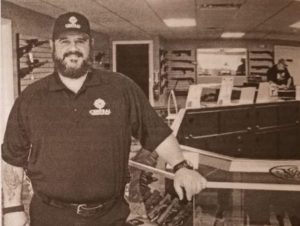 I grew up in North Branford, CT and wasn't your typical kid of the times. I spent a lot of time outdoors hunting, fishing and trapping my whole youth. My passion for the outdoors and affection for firearms led me to join the U.S. Army. I only wanted to be an infantryman because I loved guns and being outdoors! I also was an armorer in the Army.
After I got out, I have been involved in retail sales for 30 years. I know how to treat a customer and, more importantly, I have patience with my customers. I never wanted to "sell them something" rather I wanted to give them options based on their wants and needs and guide them to the best decision.
That leads me to how I became an FFL….
One day, I was trying to buy a gun at a well known gun shop in CT. After waiting 30 minutes or so and being ignored the whole time, I finally was lucky enough to be waited on. "Sparky" (not his real name) was a young kid who didn't look old enough to own a gun was my sales person. I asked some basic questions about the Kimber I was interested in and immediately knew he only wanted to "sell me something." After going back and forth with him and the condescending attitude he gave me (I am saying in my head, listen kid, I was shooting guns and fixing them long before you were a twinkle in your parents eyes) I thanked him for his time and left. The moment I walked out the door, I said to myself "I'm gonna be a dealer and someday open a gun shop."
I vowed to never be "Sparky" and to treat my customers with respect, not just the next in line. To talk to them and get to know them. I listen to their wants and needs. I try very hard to be unlike any other dealer out there.
Fast forward to 2012. I got my FFL and was a home based dealer. I was active and working full time in my day job and selling roughly 50 guns per month out of my house. Fast forward to 2016 and my wife finally said enough, it is to busy with all these people coming and going. I starting thinking about opening a retail shop.
Fast forward to 2017. The moon and stars aligned and everything just fell into place and here we are. I was drawn to Portland, noting the welcoming business community and that active the Fish & Game Club that reminded me of growing up in North Branford, where hunting, fishing, and trapping were sports shared by parents with their sons and daughters.
I have left my full time job and career to focus on making this the best gunshop in CT. One can say I am "ALL IN" now.
Thanks "Sparky"